Nikkei MC Aluminum (Thailand) Co.,Ltd.
Nikkei MC Aluminum (Thailand) Co.,Ltd. is the market leader in aluminium alloy manufacturing. With cutting edge Japanese manufacturing technology joined with well trained staff, Nikkei MC Aluminum (Thailand) Co.,Ltd. behaves toward forefront Aluminium alloy market whilst focussing close attention to environmental matters. Our 2 manufacturing facilities, which are fully equipped with innovative manufacturing machineries has positioned the company well to respond to the greater extend of futuristic and intricate customer requirements, yet projecting the quality standard together with environmental and community sustainable setting.
Read About Us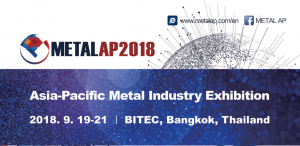 METAL AP 2018 Exhibition (Die casting/Foundry/Furnace & Heat Treatment/Metallurgy) will be held at BITEC for Sep 19-21.
We, NMAT, together with Rheinfelden Alloys GmbH, will exhibit our developed Aluminum Alloys and their developed Alloys in our Booth.
Our Booth is located in the placement of Euroguss.
MANUFACTURE GOOD QUALITY
ALTERNATIVE INDUSTRY SOURCE.
NMAT pay consolidation of effort in each manufacturing processes include; material sourcing, melting process, casting
process along with others, toward the diversity of customer's requirements. Assured international manufacturing standard.
NMAT pay consolidation of effort in each manufacturing processes include; material sourcing,
melting process, casting process along with others, toward the diversity of customer's requirements.
Assured international manufacturing standard by ISO 9000 and ISO 14001